Eva x Carola named as finalists in the 2018 Future Textile Awards
November 5, 2018
We're delighted to announce that Eva x Carola in collaboration with Santoni Shanghai are finalists in this year's Future Textile Awards, in the Best Innovation in Sport Textiles category.
The Future Textile Awards occur every two years and are dedicated to finding the most innovative and cutting-edge developments within the textile industry. Awards are given to material experts, product developers and designers around the world who have demonstrated the most ground-breaking work. We are excited to be part of this important initiative. As part of the awards application, we showcased our Personalized Performance collection which is a collaborative project with Santoni Shanghai. In this post, we'll tell you a little bit about the collection and why it has attracted attention from industry leaders.
Why: modern problems, cutting edge solutions
With the global market for activewear predicted to reach US$231.7 billion by 2024, there has never been a better time to find future-facing solutions and new approaches to activewear. However, with the demand for sportswear at an all-time high, consumers are faced with a never-ending supply of new sportswear brands. Garments have fallen victim to the throwaway culture that modern life has created, making them disposable and unsustainable.
There are solutions to this very modern problem, and those solutions lie in technical and digital innovation. With the Personalized Performance collection, we are creating a new breed of garments that stand out in a sea of conventional designs. This new type of clothing holds true value for the wearer because it has been tailored specifically to their needs. Designed from an intellectual perspective, each garment is customized so that it enhances a person's experience and the way they move their bodies during sports.
Seamless technology, 3D knit and careful engineering are key to achieving this. With these techniques we can create a garment that fulfils several functions such as cooling, support, and comfort. We can also add exceptionally beautiful elements and graphics which make the garment psychologically pleasing, distinctive and unique.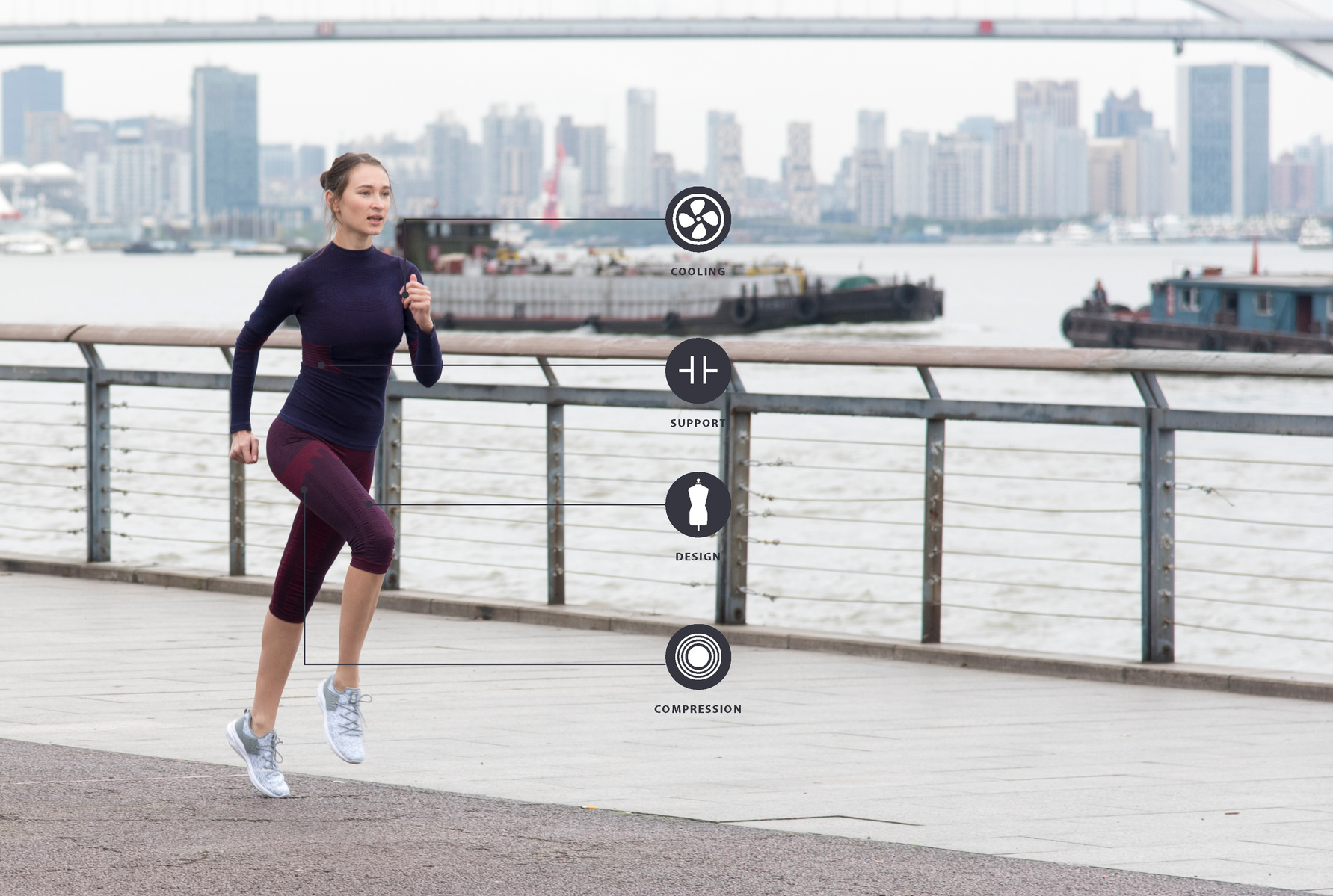 How: personalised performance
Producing this new type of garment requires a completely fresh approach to the design process. We carefully analysed the body to determine which functions are needed and where. We thought deeply about aspects such as compression, shape and touch and how these might benefit the wearer when exercising. Each of these benefits can be delivered by creating a specially designed texture on a stitch-by-stitch level. Taking a scientific approach, textures are then rigorously tested and measured for their performance levels, including:
• Power: the performance delivered by the garment's fabric
• Energy: the energy exerted by the body as a result of garment composition
• Comfort: the "second skin" effect
This is a fascinating process that can have many different outcomes. Adjusting machine settings and using different yarns can produce different results. For example, increasing or reducing restriction levels within the material allows us to create garments that are suitable for different sporting activities, such as cross fit training or competing.
Santoni Shanghai's seamless 3D knitting technology has been instrumental in this process; not only can we create second skin garments with an unparalleled level of comfort, we can also create textures that can be knitted together all in one go.
It's also important to bear in mind that this technique goes beyond clothing and footwear; we can use the same approach to produce other products such as a car seat or a travel pillow. This idea has huge potential and we are currently exploring different concepts for development.
What: the future of making
Building on the fantastic results we have seen with our current work, we have an exciting goal for the future which has attracted the attention of the Future Textile Awards. It involves digitalisation, machine learning and programming benefits into the materials rather than the machine.
We can create a new kind of manufacturing where, using 3D knitting, the material itself can be programmed. Using specially designed algorithms, we can program the machine to make specific adjustments to garments based on the needs of individual wearers. Parametric algorithms will generate the pattern, and this will be directly compiled into machine-readable knitting files. Instead of working in 2D, the design process will be based on 3D visualisation and even "4D" simulations where the movement of the body and the reaction of the textiles can be manipulated.

This has far-reaching implications for the future of activewear, how we use textiles and how we deliver value to the wearer. With a user-friendly digital interface, the consumer will be able to specify which functions or benefits they would like a garment to deliver, and the knit technology will immediately know how to produce this and what settings to use.
With the ability to personalise and visualise their own products, the consumer is empowered and a new consumer experience is created. This will also create a relationship between the machine manufacturer and the consumer that does not currently exist, whereby they can connect directly with each other. The manufacturer will gain new insights into the needs of the market. Perhaps the best part of this is that the digital system will be self-learning; with each input from the consumer it will gain more intelligence.
The winners of this year's Future Textile Awards will be announced in Amsterdam, Netherlands, on Wednesday 7 November. We will keep you updated! In the meantime, if you'd like to learn more about the kind of garments we are producing using the techniques mentioned here, you can read about our Essential Bra via https://www.evaxcarola.com/blog/the-essential-bra.
We're always delighted to talk about our work. If you have any questions or comments about this project, don't hesitate to get in touch via studio@evaxcarola.com.
Special thanks to Martijn ten Bhömer, Xi'an Jiaotong-Liverpool University and Saxion University for their continuous support, research, analyses and testing.