The need for new textiles
Millions of people are now working from home due to Covid-19. According to newspapers like The Guardian, this could lead to a permanent shift towards working from home for many employees once the pandemic is over. Employers are realising the many benefits of working from home, such as higher productivity and savings of over $11,000 per person. Working from home allows employees to spend more time with their families, save money on commuting, live in cheaper rural areas and lower their carbon footprint. As a result of these insights, it's estimated that 25-30 million US employees will start to work from home regularly over the next 2 years.
This rapidly growing trend means there's a demand for clothing to wear when working from home. For efficiency and comfort, the majority of home workers tend to wear the same clothes throughout the day. But the day is still divided into different activities. This means there's a need for clothing that is multifunctional and fulfils different needs at once.

With less occasions to dress up for, one of the major things people are now looking for is comfort. Sales of loungewear, one of the most comfortable clothing categories, have risen significantly since the pandemic started. According to the advertising company Criteo, who analysed 2 billion consumers worldwide, Australia saw a 184% rise in loungewear sales, Korea 80% and Italy 79% respectively.

But comfort isn't the only thing on people's minds; with a steep rise in video calls, we also want to remain presentable and feel beautiful. This isn't only a prerequisite for online meetings, it's also an important way to boost morale and mental health.
In addition to this, physical exercise is also an important part of the day. The scheduling platform Doodle reported a 100% increase in group meetings booked for virtual-only yoga, dance, exercise, workout, fitness, aerobics and Pilates sessions in March 2020. People are also prioritising fresh air, and time outdoors where they are exercising in parks and gardens. To cater for these activities, we need clothing that's suitable for wearing both indoors and outdoors. The duality between indoor and outdoor needs means this clothing needs to be hybrid in nature and deliver modular uses throughout the day.

Wearing the same outfit for both sports and our everyday working life means we need our clothing to perform specific functions. For example, we need garments to offer moisture management, along with being resistant to bacteria and odour. If we pop outside to go grocery shopping, it would be great if our garments also offered protection from sudden rain spells or stepping in puddles.
Lastly, when people's lifestyles force them to spend more time at home, they tend to focus on attractive, comfortable and functional furniture. We envision, along with clothing, a range of new fabrics for interiors that combine stain resistant and water repellent properties engineered with features such as loft, design, and support.

With all this in mind, we have developed a series of materials that fulfil the following important functions:
A) Hybridity
B) Visual Amazement
C) Safety & Protection
D) Health & Wellbeing
Key elements in these material stories are waterproof yarns, Dyneema, heat expansion yarns and anti-bacterial fibers.
On both the single and double jersey materials, we have chosen to explore lighter weight textile versions that are more suitable for mid-layer to outerwear garments when compared to what is currently in the market. On the single jersey this has been achieved by using a coarser gauge of 22gg. On the double jersey, the fabrics have been made on 20gg machinery. This is the finest available range within Santoni's seamless double jersey technology.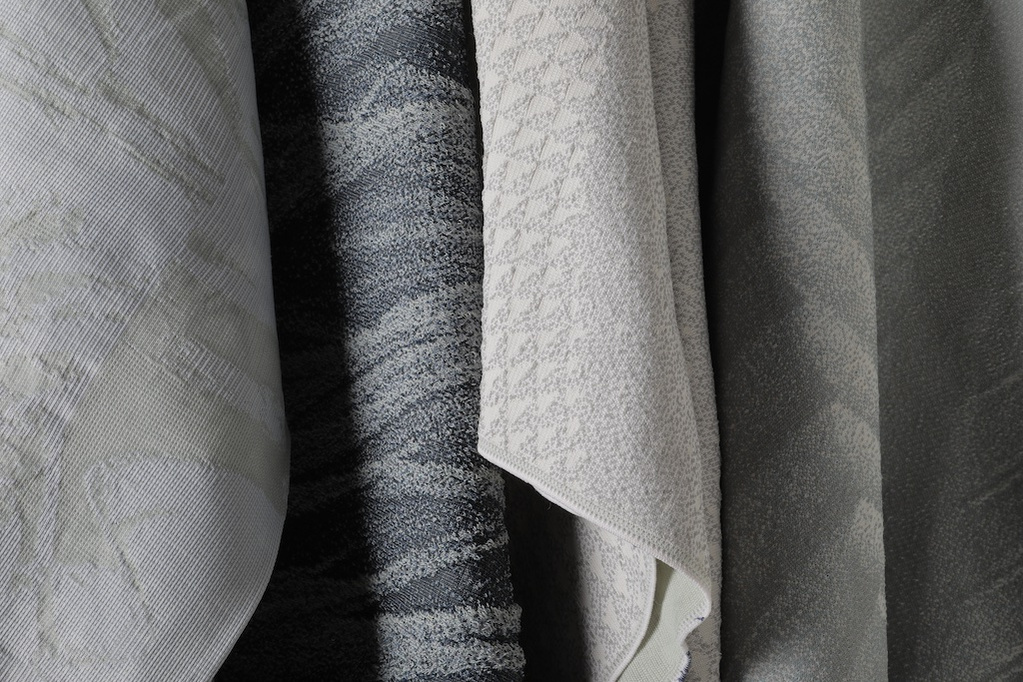 Engineered Hybridity
Top2 Fast, 22GG
Single Jersey - Santoni Shanghai
The work from home lifestyle demands clothing that can deliver several functions at once. This requires a new kind of hybrid material that, for example, is not only waterproof but is also breathable, combining areas that are stretchy with areas that are more rigid.
Usually knitted materials are stretchy and suitable for draping over the body. With this textile we did something different: we made the material rigid and non-stretch, giving us the option of engineering both non-stretch and stretch areas.

By combining the right yarns, structures and machine set up we created a dense, woven-like, water repellent material. While retaining breathability, the material provides cover for light rainfall when outside or drink spills during a conference call.
This yarn has been engineered from the core, resulting in a longer lasting water repellent effect when compared to the usual method of creating water repellency by adding coatings in post processing. Our approach leads to a higher value product, built from the yarn up, that results in a true design element.
By utilising the engineering capabilities of the seamless technology, we can further extend the idea and areas that are partly rigid and water repellent (as per swatch), moving to more flexible and stretchy areas.
Due to the smart interplay with micro structure, the inside and outside show a slight 3D effect. This gives a beautiful embossed appearance whilst, at the same time, helping to further improve breathability.
For visual amazement, a more sustainable approach and a lighter weight result, we have been working with yarn-dyed materials and a smart utilisation of the machine's plaiting function. The micro structures used also allow for easy personalisation and a single-piece bulk production process.
This approach leads to a versatile mid-to-outer layer material.
Other areas where we see possibilities are: indoor and outdoor furniture / home textiles, lightweight easy-to-carry shopping bags and footwear.
Engineered Visual Amazement
SMDJ2T, 20GG
Double Jersey - Santoni Shanghai
Working from home shouldn't mean we have to sacrifice feeling good about how we look. We want our clothing to feel beautiful and look visually amazing, whilst at the same time catering for practical requirements like temperature regulation.
We therefore developed a heat-tech material that could be an investment piece for the season. Featuring thermal regulation properties,
this material can accommodate both cold conditions and warming up situations.

The areas we focussed on were lightweight elements, insulation, density and form, as well as engineered water-repellent yarns to create a durable weather-proof material.
This material offers an understated, functional and comfortable solution. Both sides use water-repellent yarns with a clean surface on one side and a pixelated graphic on the other side. The pixelated graphic creates the appearance of a responsive material, with colours that give a sense of vibration and movement.
These qualities make the material suitable for reversed products that could be used for running, warming up and loungewear.
When creating the form and shape from a seamless tube, the result is an all-in-one product that avoids the need for complex processes and post engineering. Other industries this could be applied to include interiors and automotive.
Engineered Protection
SMDJ2T, 20GG
Double Jersey - Santoni Shanghai
We need to feel protected by our clothing, whether it's being shielded from bad weather or from falls and accidents. Since we're wearing it all day for every activity, material should be durable and long lasting.

In response to these needs, we engineered a graphic focussed material with water repellent yarns on the outside that create a weatherproof layer. The inside is developed with Dyneema yarn.
Dyneema yarn creates a durable, lightweight, and versatile material.
It is extremely hard-wearing and is potentially even suitable for military or security protection with an anti stab function.
The fine gauge technology can create an image-like graphic.
Due to the stitch-by-stitch construction, this can be easily tailored into a personalised solution via a single-piece bulk production method.
The material could be suitable for applications such as outerwear, protective gear, outdoor furniture, and the automotive industry.
Engineered Well being
SMDJ2T, 20GG
Double Jersey - Santoni Shanghai
To enhance feelings of wellbeing, we need to feel warmth whilst remaining comfortable via thermal regulation. At the same time, the wearer wants to feel beautiful. Since we also want to consider our health, the material should ideally protect us against bacteria.

We therefore engineered a fabric that was water repellent with anti-microbial properties, whilst at the same time incorporating a natural "second skin" feel with soft padding for insulation.
This material is created by combining a quilted structure and forming an intriguing loft pattern. It includes engineered areas of higher and lower loft. Also incorporated is a body mapped pattern that can create areas with higher or lower levels of insulation and breathability, along with areas that have a higher density or a stretch structure.
The anti-bacterial layer acts as a second skin that feels good against the body. The result is a unique material that provides us with a new source of health and wellbeing.
The outer layer uses water repellent yarns, making this material suitable for both indoor and outdoor purposes.
In addition, the material uses a sophisticated graphical design to create a feminine look and feel.
These materials are made in collaboration and with the technology of Santoni Shanghai at the Material Experience Centre.